I was perhaps one of Earth's most alienated of beings, and by that I mean that I did not sense belonging here. My cultural context was such that I had no sense of relationship with my earthly and cosmic habitat…Earth/Nature itself was devoid of real consequence; it was human activity upon it that was of consequence…but even then they had to control its waywardness with sprays and fertilizers. It was a big dead ball of dirt…from which we would be saved by 'God' eventually…Here in the South Land, the supernatural Christian drama of God and Jesus was completely unrelated to place. It was a particularly cerebral religion, and in that sense barren – devoid of ceremonial recognition of the fertile Earthbody.–Dr. Glenys Livingstone
She goes on to describe how when she was growing up in Queensland, Australia, her schoolbooks from the northern hemisphere showed the moon phases in mirror image to the moon here, the path of the sun was described as clockwise from east to west which is not how it travels here, and the seasonal celebrations were out of whack with fake snow in the middle of summer for Christmas (that still happens and weirds me out!).
I see this on individual and societal levels. It seems to be a common form of wetiko, the psycho-spiritual virus of supremacy common in colonialism, some cultures and religions. In our bodies and by our nature, it's SO much easier to live in sync with the seasons, be present in our environments, accept experiences without judgment. So why don't we? I feel that as a whole we have become alienated with aspects of ourselves and our environments. Because this is so painful, rather than face those wounds and work through them, we deny, avoid, and dissociate. When we feel hurt we: (1) say we forgive but carry resentment around instead, which becomes an emotional bomb that detonates at an unexpected time, (2) don't say anything, resulting in resentments, passive-aggressive behaviours, and 'faking it', and (3) take some space to try to manage our own emotions without confronting the conflict, but the conflict keeps occurring in a painful holding pattern.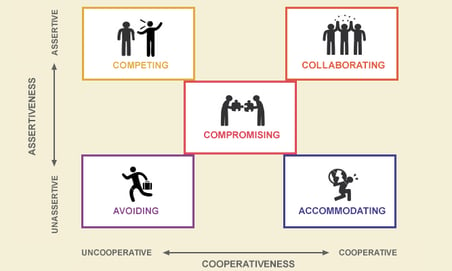 If I try to let something painful go and can't, or if I feel like I need to address something in the moment so it doesn't get bigger, my approach is to directly, honestly, bring it up with the person. I don't ever intend to judge, and if someone does experience me as judging, I want to be told. If someone does something that hurts my feelings and I care about the relationship, I will either let it go or tell them. And if I do something that hurts someone, I need them to let it go or tell me so we have the opportunity to work through the pain and maintain integrity. Conflict creates opportunities to deepen intimacy, to heal, and to learn about ourself and someone else. I accept that navigating conflicts is part of being human. (Fodder for another post: Do you know your conflict style(s) ala the image above from here?)
What I find, though, is that we can know someone for a while, even a few years, and the first time we express annoyance, or say we feel disrespected or hurt, and directly, respectfully, confront a conflict, the other person does (1), (2), and/or (3) to avoid being honest. This prohibits intimacy and integrity and destroy relationships. I saw this behaviour in a new light this weekend through a relationship with a friend. I realised the way she identified as Christian is grounded in her human family, not the Earth, which placed humans hierarchically above the rest of nature. Even though she talked with me about my cosmology, expressed interest in indigenous healing, and was struggling with painful and deep patterns of narcissistic abuse. In my experience, narcissism can only heal through re-orienting ourselves into a holistic worldview.
There is a pattern to the universe and everything in it, and there are knowledge systems and traditions that follow this pattern to maintain balance, to keep the temptations of narcissism in check. But recent traditions have emerged that break down creation systems like a virus, infecting complex patterns with artificial simplicity, exercising a civilising control over what some see as chaos. The Sumerians started it. The Romans perfected it. The Anglosphere inherited it. The world is now mired in it.–Dr. Tyson Yunkaporta
He goes on to say:
Narcissism is not incurable…Entire cultures and populations recovering from this plague have been left like orphan children with no memories of who they are, longing for a pattern they know is there but can't see…There are so many adolescent cultures in the world right now, reaching for the stars without really knowing what they are. Adolescent cultures always ask the same three questions. Why are we here? How should we live? What will happen when we die?
But if everyone around you sees the world through the lens of human supremacy except for one person (like your weird friend Valerie), are you willing to believe that person? In my experience, it takes a courageous person who's ready for a new form of freedom, and even when we ask for something and it's handed to us, sometimes we can't see it and still reject it. I find it really painful watching people get so close only to give up and destroy their relationship with me through disrespect and existential judgment. I know they'll get another opportunity, or two, or three, to heal the wound, but not with me. I use honesty and directness to maintain fierce protective boundaries…