Blog by Valerie
Why does a crocodile hide underwater and then snap at prey (fight)? A sparrow swoop into a tree when there's rustling on the ground nearby (flight)? A dog play dead (freeze)? Because trickiness is a part of earthly nature. Sometimes we purposely trick ourselves, like when we feel pain and focus on "a happy place" to feel better. We often play tricks with children, such as pretending Santa Claus left kids gifts on Christmas. And there are downright scary ways we use trickster energy, like denying we have a drinking problem, going to a pub and getting wasted, then endangering ourself and others driving home.
I have heard people of many cultures say the world we're living in was created by trickster. Some cultural creation stories are explicit about this, such as
Raven Stealing the Light
among First Nations peoples in the northwestern US and Canada, or a serpent tricking Eve who then tricked Adam in the Bible. In any case,
trickster
is an archetypal character across cultures. (Image of raven stealing the light from
here
.)
There are many ways to express and confront trickster energy, and having tools to navigate conflict is important. When we use binary thinking, when we judge right and wrong with bright line rules, when we identify as Good or Bad people and think our eternal existence depends on acting One Way, we close our hearts and minds to the inherent trickiness of nature, and we deny and dissociate our trickster aspect of being. Right now, some of us — including some of us with a lot of social power — are so unaware we're being tricked that it's costing human and non-human lives.
Denial
and
dissociation
tend to be destructive.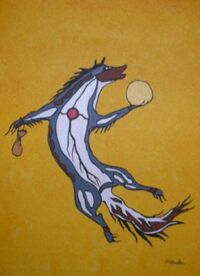 My view is that we're all somewhat tricked into thinking that the collective ways we're living are working, when deep down we feel pain, grief, conflict, helplessness, etc. about changing. We may be aware that current systems and ways of being and acting are unsustainable, and we may already be taking active steps to change ourselves and to advocate for bigger visions of change. Individual action does matter, miracles do occur, and self discipline and personal perseverance only takes us so far. As Isaac Murdoch, an Anishinaabeg elder (Canada)
said recently
in relation to corona virus:
The elders are reminding us to go back to the land. And so, for us, the land is the biggest healthcare system, and so we know that through the cultural practices of how we survived great sicknesses before, that the land is the answer.
(Image of common Native American trickster coyote from
here
.)
I am aware there's something tricky about an online platform for Earth Ethos. I am aware my relationship with traditional owners of the lands where I'm living is a work in progress and that I don't yet feel fully safe and secure living here. I see people behave in dissociated ways daily, and social graces, cultural expectations, choosing battles, and behaving with 'professionalism' mean that I don't always address it. I choose to focus on working through tricks in my private life where I have greater depth of intimacy with people. With many people I can at best plant a seed or hold them in compassion and be supportive in spirit.
It helps when I'm truthful with myself and witnessed by someone else about tricks I'm navigating in my inner and outer world. I aim to avoid the trick of blindly acting on 'shoulds' in my head, and the trick of excusing what happens as 'meant to be' without using it as a learning opportunity. Being honest about trickster energy demands self-awareness. I cultivate that through grounding practices such as
earthing
, centring practices such as meditation and
ceremony,
purification practices such as
rituals of letting go
, reflection practices such as
empathic dialogue
, being receptive signs and feedback such as engaging in
altar practices
. (Image from
here
about the essence of Native American trickster tales.)
I am also aware that the nature of trickster energy is that it changes forms, or shape-shifts. There's no one trick that can save you from being killed by an attacking mountain lion (puff up and try to appear big), a bear (extra strength pepper spray and run away), corona virus (ride it out and hospitalise if you can't breathe), or an angry human with a gun (?). And I accept that trickiness is part of life. When I deny it, I feel stuck in a loop acting out the so-called battle between Good and Evil, and I need more compassion and grace. When I accept it, I am aware there's good and evil mixed into everything and everyone, and I'm more likely to have an I-don't-know mind and be able to flow in the present moment…
If you value this content, please engage in reciprocity by living, sharing and giving.