Blog by Lukas
Are the most prescient ideas and images that come to mind when you think of the word "warrior" all about physical strength, toughness, and violent conflict? I doubt you're alone. To borrow a trick from Valerie, if you online image search the word "warrior" the first things that come up are virtually all men and related to physical violence, specifically some new television show that evidently involves a lot of arse kicking. The story is similar if you try "female warrior".
The technical definition of a warrior in the English language supports this narrow view, being rooted in a French word guerroieor meaning "one who wages war". Most definitions of warrior relate to waging armed conflict, specifically those who have some kind of specialised role in doing so. (Image from here)
The etymology of the word "war", however, is much more interesting, seemingly originating with broader concepts that include difficulty, dispute, and hostility. According to  etymonline.com, if you follow the known Proto-Germanic cognates as far back as they go, you arrive at a word that means "to bring into confusion".
This is fascinating to me on a number of levels. Not least of all because virtually all first-person accounts of war I have read describe some manner of confusion and chaos to a degree that was unexpected to the writer. My flailing fist fights over the years confirm this; and as "Iron" Mike Tyson said:
So if war is to some degree about confusion and chaos, perhaps the true warrior is someone who uses their power to bring these things back into a calmer balance? This then is about a warrior responding to and resolving conflict rather than instigating it, even if it is they who strike first. Without doubt there is a rightful place for violence in this, but also many other elements. Sticking to the realm of the physical, another version of the warrior could be a woman in labour finding her strength and power and calmly birthing just when things were at their most chaotic and the pain most intense. (Image from here)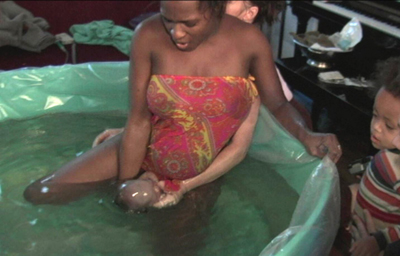 But if we are to use this warrior concept to its fullest extent, literally and metaphorically, perhaps the most important thing is to apply it across the medicine wheel. So this gives us emotional, spiritual, and mental warriors; any and all ways in which a being can use their strength and power to bring conflict and disorder back into balance.
Note that this bigger version of warriorship does NOT just mean these other aspects of warriorship being in service of physical violence, such as mental energy being devoted to better weapons technology, or emotional quieting and centring that improves fighting ability. It means recognising their deep value to our being in and of themselves and together in balance.
This topic came to me when thinking about men and masculinity in the context of healing and reconciliation between Anglo-Celtic Australians and Aboriginal Australians. If we restrict our thinking about and valuing of warriorship to literal, physical combat, this makes such healing hard, such was the intense lopsidedness of the physical contest.
I don't think it is controversial to say that in the world of Aboriginal Australians, weapons and warfare were just one part of what made men and warriors in those cultures whole and powerful. The weapons they had been using for millennia more than did the job they were needed for. Europeans, on the other hand, were by 1788 riding a wave of centuries of escalating prowess in using violence, supercharged by technology and in service of greed. Warriorship caused more conflict and trauma than it resolved.
With this fuller version of warriorship comes some understanding of what I as an Anglo-Celtic colonist lack, and what I need for healing. I don't yet value my heart and spiritual warriorship enough.
On both the oppressor/colonist side, and the survivor/colonised side of this ledger is ample reason to grow through helping each other to see warriorship more fully. When we do this we'll need no self-shaming to see the deep value of the balanced warriorship of Aboriginal masculine culture. We colonists can learn what being a whole mature warrior means, and Aboriginal men can learn to value who they are more fully. Then we can do ceremony to bring the conflict and disorder back into balance. (Image from here)
Exercise: Taking a strengths-based stance, think about how your sacred masculine (regardless of your gender) displays warriorship across the Medicine Wheel.
Exercise for Australians: If you are doing an Acknowledgement of Country (especially when there are only men present), try acknowledging the Aboriginal warriors as well as Elders.
 If you value this content, please engage in reciprocity by living, sharing and giving.