There's a lot of rhetoric about boundaries, and setting healthy boundaries, and crossing boundaries, but in essence, we're talking about integrity, or wholeness. From google, the etymology of integrity is: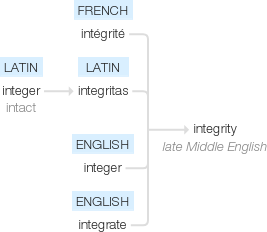 When we are in integrity, we are boundaried. We do need to assert our boundaries at times, but most of the time they just are and don't require work or thought. I find asserting boundaries arises quite involuntarily and naturally–if someone stomps on my foot, I say OW! or HEY! without thinking; and if someone is behaving disrespectfully repeatedly (3 times for me), my voice usually rises in volume and the words emerging from my mouth become harsher.
I see a lot of confusion around boundaries, and a lot of misguided effort to "set" them resulting in drama, mind games, and power plays. We can't bypass healing through intellectual knowing. I see people deny themselves healing opportunities with justifications like "they know better" or they "don't deserve" the pain they're feeling.
Deserving has nothing to do with it; that's a victim mentality that's totally disempowering. And pretending we know better than to walk through the experiences life is presenting is an arrogant way to avoid reality. If you're carrying pain or emotional charge, take the opportunity to free yourself by experiencing the pain fully, healing, and embodying its medicine. Boundaries will flow through your healing process the more you trust; you will realise when you are called to walk through an ordeal, which battles are not yours, and 'yeses' and 'nos' will flow.
In the medicine wheel, it's easiest to agree on physical boundaries and integrity, though concepts such as consent and personal space differ by individual and culture. Spiritual integrity bounded by our faith, beliefs, and ritual and ceremonial practices, at individual and cultural levels. Emotional integrity has to do with self-knowledge and expressing our feelings fully in honest, healthful ways. Many people find psychological boundaries challenging to maintain, and many of us don't think about psychological integrity because we are so used to our super busy minds. The more contemplation/meditation, grounding, and ancestral trauma healing work I do, the more integrous and embodied I become, and the lighter and more prescient my thoughts are.
Traumas in our lineages, lives, and on our lands disconnect us from integrity, and we carry a lot of that trauma in our minds. Everyday tasks such as buying groceries can feel like minefields. Are we buying organic? local? from exploited workers? plastic packaging? We are all indigenous to this Earth and can experience profound interconnection and belonging with ourselves, other people, plants and animals, and even landforms.
Paul Young, a medicine man in Sydney, suggests a three-step healing model for mental integrity: (1) de-colonise and increase receptivity, (2) culturally strengthen and ground, and (3) alter your state to experience indigenous inter-connection through ceremony, meditation, prayer, etc. Similarly, in a conversation with Dr. Apela Colorado last week she suggested a healing process based on contemplating the following three questions:
What were your traditional cultural ceremonies?

How did you lose them?

What losses do you need to process to stop perpetuating colonisation?
Exercise: What does integrity mean to you (spiritual, emotional, physical & psychological)? How would you start to answer Apela Colorado's questions? Consider your answers in light of this quote from a Rwandan man:
"We had a lot of trouble with Western mental health workers who came here immediately after the genocide, and we had to ask some of them to leave. They came and their practice did not involve being outside in the sun where you begin to feel better, there was no music or drumming to get your blood flowing again, there was no sense that everyone had taken the day off so that the entire community could come together to try to lift you up and bring you back to joy, there was no acknowledgement of the depression as something invasive and external that could actually be cast out again. Instead they would take people one at a time into these dingy little rooms and have them sit around for an hour or so and talk about bad things that had happened to them. We had to ask them to leave."