Blog by Valerie
A friend brought this question to me, and I thought it a good one to take on. For some, being 'spiritual' is like the U.S. Supreme Court decision about porn – 'I know it when I see it'. For some it's intertwined with religious rites. For me, spirit is an animating energy exhibited through an act or a relational dynamic that connects all of us beings on Earth. For example, the spirit of my relationship with my daughter is characterised by a lot of joy, and the spirit of my relationship with my dog is primarily one of companionship. Spirituality is cultural, and mine is Indigenous, based on an animistic understanding of the world. I see all beings on Earth, including rocks and even manmade plastic toys, as having spirit, some kind of animating energy.
(Typical image of 'spirituality' from here)
Spirit with a capital S to me refers to a big creative and destructive energy that is more than any identity I can hold, of which I am a small part. Some say Great Spirit, some say God. Spirits plural to me refers to beings that I see in dreams or visions, or experience through the four invisible clair-senses (clairvoyance – seeing, clairsentience – feeling, clairaudience – hearing, claircognisance – knowing – described by Diné Elder Wally Brown as the counterparts to our five physical senses represented by our five fingers and the four spaces between them.)
So if this is what spiritual, Spirit, and spirits mean to me, what does it mean to 'be spiritual'? First, it means acknowledging some energies/forces/beings that are too vast to be encompassed by an individual, or even our collective, human identity. Second, it means openness and awareness of the invisible clair-senses, and to experiences that are not explainable, or sometimes even experienceable, in materialist, physical terms.
My view is that children naturally see the world in an animistic way, and that through teachings begin to close their mind (and obscure their clair-senses) to other inputs. Recently a four year old asked me to read her a story about werewolves, then asked me if they were real. I said, I don't know, what do you think? Have you seen one before? But her mother quickly jumped in to say that no, they're not real. Of course she is entitled to teach her daughter that and presumably she believes that to be true. I have not personally encountered a werewolf in my dreams or visions (or the material world) but I tend to think that if such beings loom large in our collective human psyche, and even across cultures, that there is likely something to it.
How do we know the difference between a spiritual experience and our imagination? I have seen a lot of people struggle with this – with their minds tricking them into thinking they have encountered a Spirit, for example. For me the difference is in embodiment. And when in doubt, see if and how changes occur in your everyday life as a result of the insight or guidance you got. (Image from here)
That spiritual experiences are grounded in the land and embodied in everyday life is a foundation of Indigenous spirituality. In an Indigenous worldview, an identity is commonly seen as a collection of relational dynamics, including relationships with humans and non-humans. This interdependence is often honoured through totemic relationships and responsibilities to do rituals and ceremonies. If I see my identity and my very existence as tied to the water in a river nearby and the fish in it, then it makes sense to fight for their survival and even put my own life on the line. See this recent example from California regarding the centrality of salmon to Yurok, Karuk, and Hoopa Valley tribes.
This may seem extreme to Westerners, even environmentalists willing to put their lives on the line for Mother Earth, because it's not just about how humans need water or fish to survive, it's the particular patch of earth (or sea or sky) and relational responsibilities there that matter to your very existence. If those fish die, you die; there is no supermarket to run to for other food. If you have to leave your land, you may get killed by others when you go onto their lands, or you may die not knowing how to survive there and live in a sustainable healthy way there.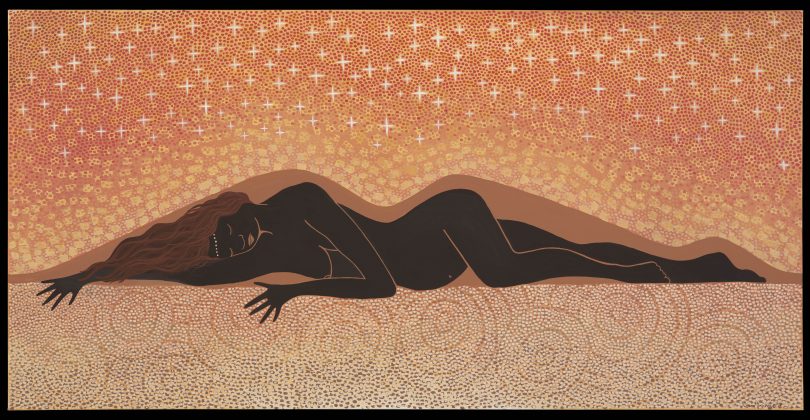 (Art by Cheryl Davison, Yuin woman, of the pregnant mother spirit of Gulaga mountain, protector of the land we are now grateful to call home, from this site)
(A photo of me in front of Gulaga taken a few years ago by Lukas before we knew we would be moving onto her country)
Western counsellors talk a lot about attachment theory. Right now when my baby cries (or is about to cry) I feel such pain inside, and such an urge to help her, I have to respond. Imagine feeling pain like that when a sacred site you're responsible for is threatened with mining, and the urge to prevent it. Imagine the pain when it's blown up and doesn't exist in physical form anymore, just spirit and memory. Maybe you don't need to imagine that – maybe you have tapped into that well of pain most of us are carrying in our ancestral roots. Maybe on your traditional lands, or like me, on lands you are spiritually adopting and feel are adopting you and your family too.
 If you value this content, please engage in reciprocity by living, sharing and giving.