a blog by Valerie
When we grow up feeling like no one's in our corner, that life is us against the world and we can't trust anyone, many of us go on a journey as adults of learning how to put ourselves first and practice self-care and fiercely healthy boundaries, as well as learning about personal limits of meaningful sacrifice and resentment-building martyrdom. Sometimes those of us with this wound feel the pain of it so acutely that we can't focus on much else. We need the wound to heal so badly that we start to believe our needs matter more than others', and like a baby crying to be taken care of, we often look for external care-taking even as adults, which tends to result in giving our power away and ultimately feeling victimised, reinforcing our distrust wound over and over again. People say when we don't learn a lesson at a small scale, the universe keeps providing the lesson in bigger ways until we get it or it gets us. When this happens at a large scale, where many people share such a wound that it becomes an intergenerational trauma, entire families, cultures, and communities can collectively reinforce the wound in each other and embed it into social structures. (Image from here.)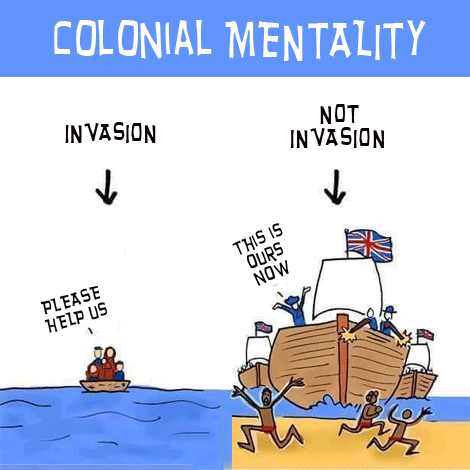 There are spiritual lessons in everything, and I've been thinking recently about the following teachings of colonialism:
corruption of power – giving us the opportunity to recalibrate how we view, carry and share power and re-order our social structures and governance;
corruption of trust – giving us the opportunity to let go of control within a separated individual identity to flow into a communal and interconnected identity;
corruption of belonging – giving us the opportunity to heal the wound of abandonment by feeling the grief and loss of disconnection from the Earth and allowing us to seek adoption by the country and traditional owners where we live;
corruption of faith – giving us the opportunity to re-place our faith into the creation of new cultures and institutions inclusive of all human and non-human kin to fulfil our special (species-specific, or speci-al) role as caretakers of this planet.
I'll share a few stories and thoughts about each of these gifts.
Power: When power becomes too concentrated and reaches a human limit, people tend to explode out of their lands like volcanic lava and end up scattered all over the world spreading stories about how they didn't steal or impose on others, 'they conquered' and 'won'. Any superiority trip (an existential hierarchy) is corrupt, and it seems to me that over successive generations (such as after a colonial land grab), the nature of power becomes apparent to more and more people and passion for social justice activism and Indigenous knowledge revival emerge to re-balance us.
Trust: As a child, I didn't have anyone around me I could fully trust, and I never felt safe because I wasn't. I trusted untrustworthy (ill, innocent and/or naive) people as a survival strategy. So I learned trust through experiencing deep betrayal. It has been a powerful mirror of what not to do. Today I'm a highly sensitive person with increasingly fierce boundaries, and I find the fiercer my boundaries, paradoxically the gentler I am with people close to me. Seeing trust as a path and practice, as opposed to a given or a 'should be' taught me that it can be learnt and earned. And it showed me that at times I need to extend trust for practical reasons even if it feels dangerous, and at times that I can hold it back to protect myself from painful experiences. (Image from here)
Belonging: More painful than my wound of sexual abuse is my wound of maternal abandonment. I have felt for most of my life like I cannot cry enough to express this profound grief and pain. Lately, though, there are moments where I can hold this gift with awe. Last week I met a Walpiri lawman Wanta Jampijinpa Steven Patrick who has worked for years to share his understanding of Ngurra-kurlu (the home within) with his people and others. He told me the metaphor of Milpirri (see below), a festival he facilitates in the community of Lajamanu in partnership with a dance company in Brisbane every two years: the hot air from their desert country rises up, and the cold air from the sky falls down; as the air mixes, thunderclouds are formed that unite the energy and send lightning and rain to the earth, connecting the hot and cold air (the Aboriginal/yapa country, knowledge and culture and other/kardiya knowledge and culture from overseas). He asked me why so many people who come to his community want to share their culture and knowledge and do not learn from him so they can be adopted where they live and "we can all be Australian." (Image from here)
Faith: Though growing up I was ostensibly taught to have faith in Western governments and their supposed 'democracies', capitalist markets, cleverness of mind, quick-wittedness, physical beauty, and a watered-down version of Jewish law, I steadily lost (or never placed) my faith in those spaces. Instead, I learned to have faith that peace can emerge from any violent conflict; that all trauma be healed; that there is value to experiencing evil, disgusting, and dangerous things. As Dr. Marcus Woolmbi Waters, a Kamilaroi man, wrote in his most recent column in the Koori Mail entitled Let's not lose sight of who we are: "I am no victim of colonisation…We are survivors, enduring and ancient, who maintain a fight for justice and truth…Yes, our trauma is deep, it is intergenerational, it is historical and resides deeply in the present, but we are not our trauma" (emphasis added). (Image from here)
I am reminded of one of the biggest gifts of colonialism that we are still unpacking: a conscious awareness that we are all one big human family despite our diverse countries, cultures, communities and the conflicts between us, and that we are all in this together, human and non-human, in holy commun-ity. (Image from here) In the immortal words of Johnny Cash: